New York, NY, August 17, 2022 – Peter Montalvo, chairman of the Consumer Product Research Committee of NewsHealthwatch Corp. announced this morning that the committee has identified VOKE Energy's natural plant-based superfood chewable product as being the best in its class as a supplement for increasing energy and focus .
"This is a premium-quality product for health-conscious consumers to be adding to their supplementation regimen," stated Montalvo. "I would recommend it for every individual requiring the ability to be a peak performer, whether that means simply staying focused at the office during mid-afternoon 'slump time,' or excelling in an athletic activity or event on the field, on the slopes or at the dojo. We live in a society that is becoming increasingly competitive, and where personal operating efficiency is truly at a premium. Most of us need something, nutritionally speaking, to give us an edge toward success."
Voke Energy Named Best In Class
NewsHealthwatch Corp. identifies a small number of "best in category" supplement products each month based upon a combination of infomedia and news articles and public product reviews. Exceptional products offering superior quality and good value are formally recognized by the Consumer Product Research Committee.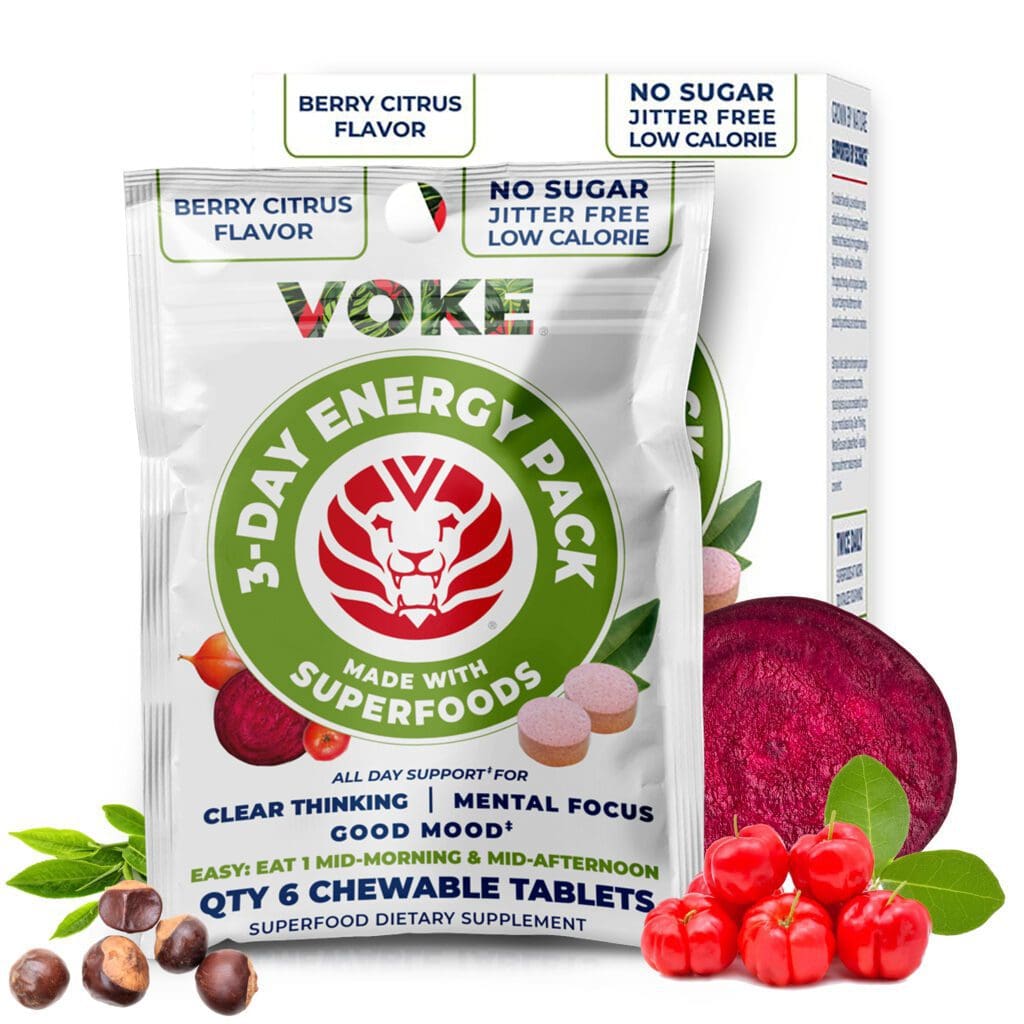 The Market For Nutritional and Dietary Supplements
The market for nutritional and dietary supplements in the United States, which is currently at about $53.1 billion, is anticipated to grow at a compounded annual rate of at least 5.60% through 2028. This expansion is driven by a growing interest, on the part of the American public, in improving the quality and length of life and in increasing personal performance and productivity. It is estimated that more than 68% of the adult population in the United States has either taken, or is currently taking supplements, as supplementation is becoming more mainstream, and biohacking is becoming increasingly commonplace. Plant-based and superfood-containing supplements are increasingly coming to the forefront for consumers.
Active Ingredients in Voke's Products
The active ingredients in VOKE's product include whole seed guarana, acerola cherry, red beetroot and green tea leaf caffeine, all of which have demonstrated efficacy based upon significant scientific research and experience. Most of the other wakefulness products in the marketplace, including energy beverages and tablets, have high levels of anhydrous caffeine and harsh guarana extract (as differentiated from pure whole seed guarana), both of which can potentially lead to jitters and shakiness. VOKE's formulation is virtually free of these undesirable side effects and is consumer-proven to be excellent for producing and sustaining mental clarity, focus, wakefulness and productive energy. The product is among the safest available in this flooded marketplace. 
"Being awake, aware, and focused," said Montalvo, "are necessities for success, and VOKE Energy has the best product that we've seen to facilitate this. Their product is, importantly, completely organic and superfood-based, without problematic synthetic ingredients. This chewable has been exceptionally well-received by consumers."
About

NewsHealthwatch is a digital publication dedicated to offering each of our readers information and insight into achieving and maintaining a healthy body and a sharp mind. Our content is updated continuously with articles covering topics relating to diet, nutrition, supplementation, exercise, and best practices for obtaining a healthier and happier life experience. At the beginning of each week, our editors select from among the finest health- and wellness-focused articles to provide our intelligent, discerning readers with superb curated content. Our journalists address a higher, more technical and fact-based standard of reporting, and their articles are filled with solid information and instructive tips and hints. Find us at https://www.newshealthwatch.com.